Episode 1 – Zahlen bitte !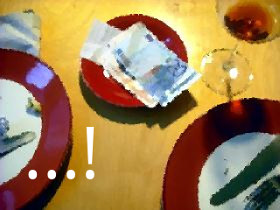 Manfred and Christine just had their dinner at a restaurant. Now they'd like to have the bill, but the waiter just isn't coming... Maybe Manfred isn't friendly enough? In this episode, amongst other things: What happens if you don't strike the right chord - and how smoothly things can run if you are just a little bit more friendly.
Dialogue transcript
Der Dialog
Manfred: Kellner, zahlen! Da, er schaut weg. Er ignoriert mich. Ganz klar.
Christine: Vielleicht solltest Du etwas freundlicher sein?
Manfred: Aber er schaut ja nie zu uns. Warte, jetzt. Herr Ober, zahlen bitte, aber ein bisschen plötzlich, ja?
Christine: So geht das nicht. Ich kann ihn verstehen. An seiner Stelle möchte ich auch nicht so behandelt werden. Ein bisschen Freundlichkeit hat noch niemandem geschadet!
Manfred: Jetzt nimmst Du ihn auch noch in Schutz. Der soll gefälligst freundlich zu UNS sein. Bei den Preisen hier will ich auch ordentlich bedient werden!
Christine: Pass auf, so geht das. Hallo! Dürften wir bitte die Rechnung haben? Ja? Alles zusammen! Das ist sehr nett von Ihnen!
Manfred: Jaja, jetzt versuchst du es auf die freundliche Tour. Aber du wirst sehen, das dauert sicher eine halbe Stunde...
Christine: Das ging jetzt aber sehr schnell, vielen Dank. Moment, 35 80...Bitte: Das stimmt so.
Manfred: Wie, Du gibst ihm 40 Euro? 4 Euro 20 Trinkgeld? Geht's noch? Und der sagt noch nicht mal Danke!
Christine: Ich weiß gar nicht was Du hast. Ich finde ihn wirklich sehr nett. Er hat nämlich den ganzen Abend mit mir geflirtet!

Podcast: Play in new window | Download (Duration: 18:23 — 8.4MB)
Subscribe: Apple Podcasts | Android | RSS