Episode 8 – Geschenke zwischen den Jahren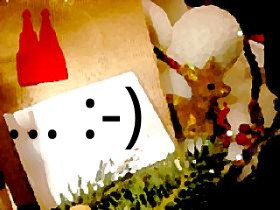 Bastian runs into Leonie, his sister-in-law. But what's Leonie carrying around in her shopping bag?  Many people go to town in order to exchange presents they didn't really like. This can lead to embarrassing situations! In this episode: words and phrases which can be quite useful in cases like this.
Episodentext
Der Dialog
Bastian: Hallo Schwägerin, was treibt DICH denn in die Stadt?
Leonie: Oh, hallo Bastian! Also - ich hab ein paar Sachen zu erledigen. Und was machst du hier?
Bastian: Du weißt doch, ich hab Gutscheine bekommen, von meinen Eltern und meinen Omas.  Jetzt kann ich einkaufen!
Leonie: Also, ich finde ein Gutschein, das ist doch kein Geschenk. Das muss von Herzen kommen, aus dem Gefühl heraus. Sonst kann man sich doch auch gar nicht darüber freuen.
Bastian: Ich find's klasse. Jetzt kann ich mir selbst aussuchen, was ich will: ein neues Smartphone oder einen neuen Tablet-Computer…
Leonie: Nee, also an Weihnachten…
Bastian: Was hast du denn da eingekauft? Lass mal sehen…
Leonie: Bitte nicht…
Bastian: Eine Lampe… Hey, die haben wir euch doch geschenkt!
Leonie: Oh mein Gott... Das ist mir jetzt echt peinlich.
Bastian: Hey, du willst die Lampe umtauschen, was Leonie? Ich bin enttäuscht. Das hätte ich nicht von dir erwartet.
Leonie: Das tut mir wirklich leid. Ich weiß gar nicht, was ich sagen soll…
Bastian: Sag am besten gar nichts mehr. (Pause) Ach Quatsch, Schwamm drüber. Ist mir doch wurscht, was ihr mit eurer Lampe macht.
Leonie: Echt jetzt?
Bastian: Klar doch. Weißt du was: Betrachte die Lampe einfach als… Gutschein!

Podcast: Play in new window | Download (Duration: 17:20 — 8.0MB)
Subscribe: Apple Podcasts | Android | RSS