Episode 32 – Das Blind Date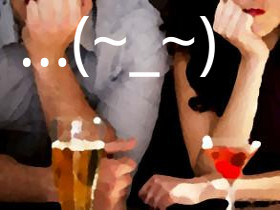 A Blind Date is an exciting matter and you can experience great surprises. Jennifer is very curious about who she will meet today... This time things become very personal very quickly between people who only just met.  Excuses, allegations, and also some romance - everything is included, all in German!
Episodentext
Der Dialog
Dieter: Sind Sie vielleicht - Jennifer?
Jennifer: Bist du etwa - Dieter?
Dieter: Ja, ich bin Dieter! Dann sind wir ja verabredet. Hier bitte, die Rose ist für Sie.
Jennifer: Ja klar, danke. Du, also ich...
Dieter: Sie müssen entschuldigen, ich mache das zum ersten Mal, so ein Blind Date.
Jennifer: Du kannst mich ruhig duzen. Das macht man so, bei einem Blind Date.
Dieter: Ja, also, Jennifer... ich weiß nicht, was ich sagen soll...
Jennifer: Dann sag mir doch mal, wie alt du eigentlich bist.
Dieter: Verzeih mir meine kleine... Schummelei: Ich bin 58. Ehrlich.
Jennifer: Du hast aber geschrieben, du seist 33. Einsfündfundneunzig groß,
fünfundneunzig Kilo...
Dieter: Fünfundneunzig Kilo stimmt ja auch! Aber ich bin nur so einssechzig... Ich seh ein, das war ein Fehler. Entschuldige!
Jennifer: Also, ich hatte schon einige Blind Dates, aber so was hab ich noch nicht erlebt!
Dieter: Du machst das also öfter? Schon gut - ich verzeihe dir! Ich finde dich sogar… sehr attraktiv. Sollen wir denn jetzt das Essen bestellen?
Jennifer: Sorry, aber mir ist der Appetit vergangen... Ich verzeih dir natürlich auch, dass du zu Blind Dates gehst: dann mal viel Erfolg bei deinem nächsten! Tschüühüss!!!


Podcast: Play in new window | Download (Duration: 17:57 — 16.4MB)
Subscribe: Apple Podcasts | Android | RSS