Episode 50 – Die Nutellamaus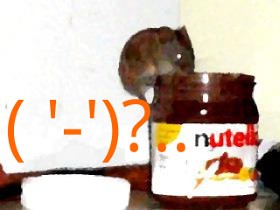 David has made a terrible discovery... There is a mouse In the kitchen! Marie finds this hard to believe, in spite of the evidence. But - evidence for what? Our fiftieth episode is very easy to understand and suitable for beginners and everyone on the elementary level A. Have fun!

Episodentext
Der Dialog
David: Eine Maus! Wir haben eine Maus!
Marie: Eine Maus? Wie? Wo?
David: In der Küche! Die Maus ist in der Küche!
Marie: Wo ist sie? Hast du sie gesehen? Hast du die Maus gesehen - mit eigenen Augen?
David: Nicht direkt gesehen. Aber ich weiß, da ist eine Maus. Ich bin sicher, da ist eine Maus!
Marie: Wieso denn? Du hast sie doch gar nicht gesehen!
David: Es ist wegen der Nutella. Das Nutellaglas war neulich noch ganz voll, jetzt ist es leer. Jemand hat die Nutella gegessen. Die ganze Nutella!
Marie: Ich war's nicht! Ich hab keine Nutella gegessen. Ich esse nie Nutella.
David: Genau. Die Maus hat sie gegessen. Es ist eine Nutellamaus, die unsere ganze Nutella isst!
Marie: Oh je.. wir haben eine Nutellamaus, das ist ja schrecklich...
David: Ja, das find ich auch schrecklich.
Marie: Genau, und es ist eine besonders schreckliche Maus.
David: Du meinst, die Maus ist besonders schrecklich?
Marie: Natürlich! Die Nutellamaus ist gigantisch, sie ist einen Meter achtzig groß und sie wiegt achtzig Kilo! Eine schreckliche, gigantische Riesenmaus!
David: Hä...?
Marie: Du bist nämlich die Nutellamaus!

Podcast: Play in new window | Download (Duration: 18:32 — 8.5MB)
Subscribe: Apple Podcasts | Android | RSS